In Make Success Happen, author Debbie Fliehman, accelerates your journey a

l

ong a marketing plan learning curve. Make Success Happen provides actionable steps andspecific examples.
W

ORKSHOP ATTENDEE COMMENTS:
"I had the pleasure of being in your workshop at the Great Lakes Women's Business Conference last week. Thank you for the wonderful marketing steps to make success
happen. It really got me fired up. You were very engaging and fun to listen to."
Debbie Fliehman conducted a workshop at the Great Lakes Women's

Business

Conference Suburban Collection Showplace, Novi, Michigan.
The energy in the room with over 100 attendees was positive and enthusiasti

c!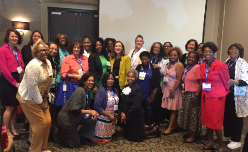 Communication EDGE Magazine
Debbie Fliehman was asked to meet and review, in Chicago, the Boulevard Artists select membership of high-powered, seasoned, and elite photographers representing all corners of North America. Their ability to capture the many remarkable essences of people, places and things is unparalled. Their artistic storytelling and global experience

encapsulating

messaging in all industries using a camera is breathtaking.
Creative Technical Resources Shares Expertise
Make Success Happen – Seven Steps to Developing a Marketing Plan
Become a Game Changing Marketer in 30 Days!
Debbie can speak at your next
Meeting, Seminar or Conference
Through storytelling in many forms, Communication EDGE magazine explores the various ways communication touches and moves people. Communication EDGE acknowledges the need we all have to engage with employees, customers, clients, stakeholders, consumers, and the public. We have the ability to create awareness, gain exposure, influence, and encourage others to take action. We hope to inspire you to apply new, exciting, and creative forms of communication to earn attention and gain loyalty. Subscribe today.